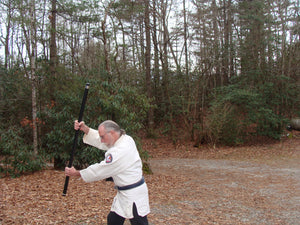 36" Sof-staff,  two handed Hanbo short staff. 1/2" CPVC reinforced w/ fiberglass w/ 8" hollow at the ends. Choose 1/4" foam for staff training and light sparring. Choose 1/2" foam for serious mid range staff sparring. All staffs have 1" high density foam at the tips for aggressive thrusting!  
PLEASE NOTE:  ALL PRICES ARE FOR ONE PIECE OF EQUIPMENT!
Used in Ninjitsu training.